David Muchow, a corporate lawyer and entrepreneur, just released "The 7 Secret Keys to Startup Success," which has a novel, narrative way of engaging with readers.
As a business lawyer and former entrepreneur, DC's David Muchow encounters a lot of the same questions every day.
Questions like: "Should I incorporate in Delaware?" "How do I fire an employee without the worry of a lawsuit?" "How can I protect my intellectual property?"
But as often as he has to answer these and other questions from answers, Muchow hasn't seen many business advice books that provided entrepreneurs with the answers.
"There are a couple of thousand business books that come out every year, so it looks on the surface as if you'd have to be pretty crazy to write one," Muchow told Technical.ly. "But in my practice as a corporate lawyer, handling a lot of entrepreneurs and startup matters, I found it was a huge disconnect between the kinds of questions I get every day from entrepreneurs, and the types of books and resources that are out there."
So, the managing partner of the corporate law firm MuchowLaw decided to do something about it by publishing his own unique book in September. "The 7 Secret Keys to Startup Success" is a 327-page practical guide to both the business and legal aspects of building a startup. It's currently available at several bookstores and as an e-book. "The 7 Secret Keys to Startup Success" draws from Muchow's career, which he said has included working in startups and entrepreneurship for 30 years.
This is Muchow's fifth published book, the others being what he describes the rest as "relatively boring legal books." For this one, he decided to do something different to engage readers. This book features a fictional character named Scooter Magee (taken from a former nickname of Muchow's son), a professional at Georgetown University (where Muchow also teaches) who travels around in a 1962 Austin-Healey convertible (the same car Muchow had as a kid) fixing troubled startups. In between mix-ups with the CIA and other entities, each chapter deals with substantive legal and business matters. All in all, it's a bit "Raiders of the Lost Ark" meets Silicon Valley, Muchow said.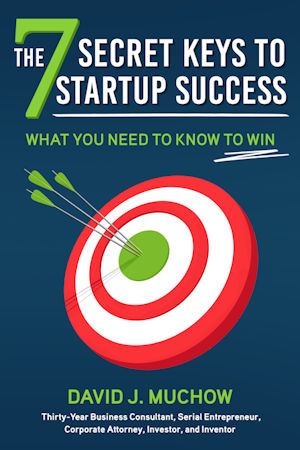 Through Scooter's adventures, readers will learn about such basics of building and growing as management, fundraising, marketing and intellectual property.
"It just makes it a lot more fun to read," Muchow said of the narrative format. "This is probably the only business book that has a color picture of The Tombs, a famous restaurant at Georgetown, in it, as well as charts on intellectual property issues."
With his new book, Muchow hopes that both brand-new companies and growing ones will find something to learn. Through the lessons, he wants companies to understand the key things they need to focus on and avoid common mistakes that lead to many startups' demise. He said that he kept the content as practical as he could, with plenty of client stories as examples.
"And along the way, I hope that they enjoy the ride," Muchow said.
---